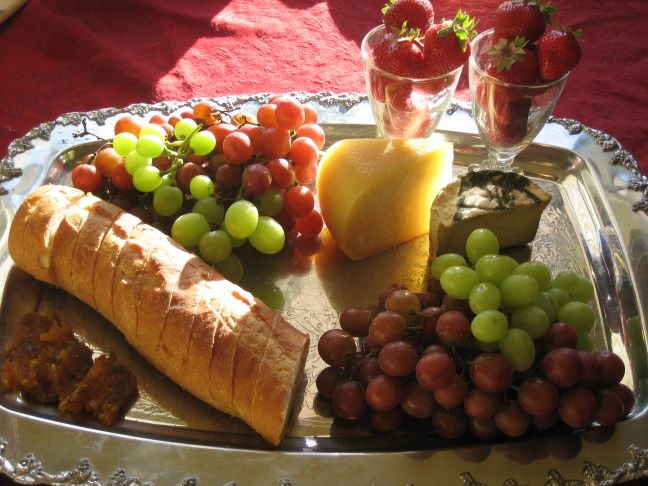 Recently, I visited Point Reyes, California. On the way home from the National Seashore, we stopped at the
Cowgirl Creamery
to buy some cheese. We were able to sample around 10 different kinds of cow, goat and sheep cheeses. We ended up buying the San Andreas Bellwether sheep cheese and a St. Pat Nettle Cheese. Delicious! At home, I put together this cheese platter with locally grown organic strawberries, grapes, a sliced baguette, and a dried apricot and almond bread. We drank a Pinot Noir with this. I was in heaven!
This platter was way too much food for the two of us. A little bit of good quality cheese went along way.
A close-up of the Cheese (The St. Pat's is on the right. The green is Nettles.):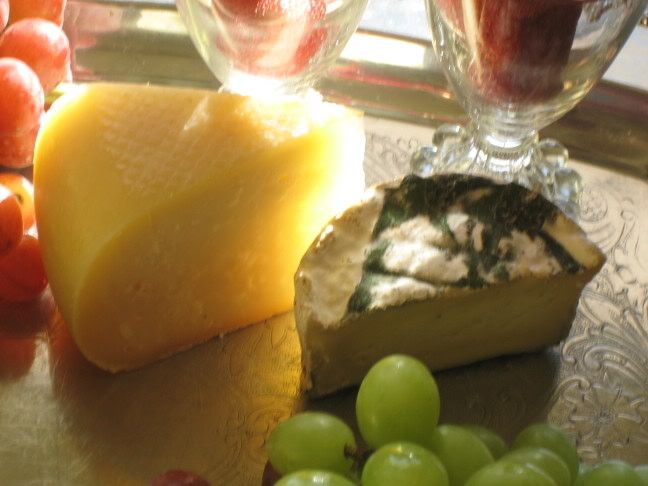 Cowgirl's description of their St. Pat Cheese: ST PAT is our seasonal springtime cheese. These rounds are made with whole organic milk and are wrapped with stinging nettle leaves. Do not fear the nettles, since they are washed and then frozen to remove the sting before they are wrapped around the cheese. ST PAT, with its distinctive, green wrapping, commemorates the arrival of spring in Marin County. After three weeks of aging, ST PAT is mellow, soft, and full of flavor. The nettle leaves impart a smoky, artichoke flavor.